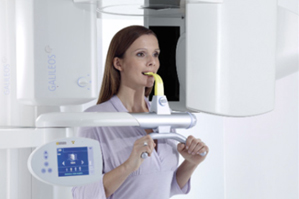 We are proud to confirm that we are one of a handful of dental practices that have an in-house CBCT 3D Scanner to aid with procedure planning, diagnoses and treatment.
What are the benefits of the CBCT – 3D scanner?
A dental cone beam computed tomograph (CBCT) is a machine that enables 3D visualisation of dental structures.
Unlike regular x-rays, it allows us to visualise the tooth and it's relationship to major nerves and vessels aiding treatment and risk assessment.
It has a 100 fold reduced radiation dose when compared to regular CT scanner, deeming it safe and effective.
Investing in such hi-tech equipment means we can offer our patients the very highest level of dental care and continue to provide successful outcomes for all patients, no matter how complex the case.