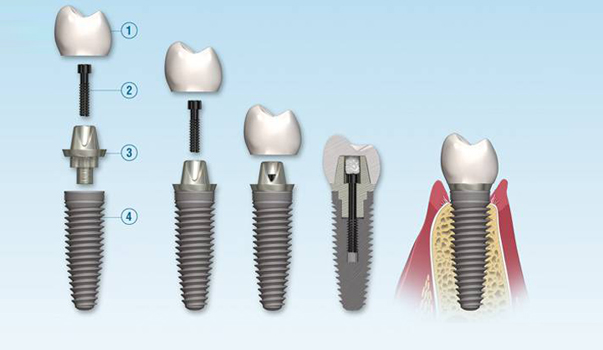 Dental Implants
What is a Dental Implant?
Dental implant treatment provides a genuine life-changing solution to missing teeth and is one of the most exciting areas of modern dentistry to work in. Placing dental implants is becoming increasingly popular. Our highly skilled clinicians will be able to assess patients who have acquired tooth loss and restore their function and appearance.
What Does The Treatment Involve?
Dental implants come in various materials, shapes and sizes. A lot will depend on the type and amount of bone you have and the position of the missing tooth in relation to other vital structures such as nerves and blood vessels.
A titanium post is placed in the jaw bone to support a replacement tooth – this acts like the root of a natural tooth.
The implant is usually left for some weeks to allow the bone to form a strong bond to the implant.
Once the implant has integrated with the bone, an artificial tooth is attached for a natural look.
The artificial tooth is custom made to ensure the ideal colour, shape and size.
By using the latest technology, including our 3D digital X-Ray scanner our experts will discuss your options with you, ensuring you obtain the results you desire.
Call us today to find out if dental implants could be the solution to your missing teeth.